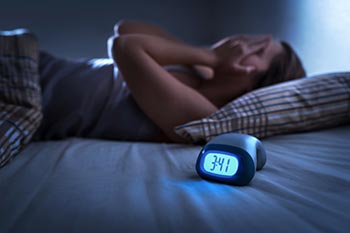 Everyone has trouble falling asleep sometimes, but when the condition happens repeatedly, it can begin to affect multiple aspects of your life. Insomnia can impact your ability to function at school, in the workplace, and even at home.
Symptoms of Insomnia
Insomnia can be defined as several different symptoms:
Having trouble falling asleep
Having trouble staying asleep
Waking up feeling unrested
Getting six hours or fewer of sleep for multiple nights in a row can also harm your health. Some of the conditions that can arise from insomnia include:
Anxiety
Depression
Fatigue
Gastrointestinal problems like stomach pain, heartburn, diarrhea, constipation, nausea, and vomiting.
Headaches
Irritability
Trouble concentrating
Causes of Insomnia
Hormonal imbalance can easily lead to insomnia. In particular, melatonin, a hormone produced by your pineal gland can be over- or under-produced. Melatonin regulates your body's sleep cycle or circadian rhythm.
Similarly, insomnia can be a result of menopause in women or andropause in men.
Some other factors that could lead to insomnia are:
Anxiety
Depression
Medical conditions like chronic pain or respiratory problems.
Stress
Insomnia Diagnosis
The first step in treating insomnia is to single out the reason it is happening. A typical insomnia treatment plan begins with a review of your current sleep patterns. During this consultation, your doctor may discuss how frequently you wake up in the middle of the night, or how long it may take you to fall asleep. In some cases, a sleep diary is recommended to help log these patterns as they occur.
Another test that is specific to diagnosing insomnia could be performed in a sleep center. During an overnight visit, a sleep doctor can monitor factors such as brain waves, breathing, heartbeat, eye movement, and body movement while you sleep.
Insomnia Treatment
Sleep disorders need to be addressed from the perspective of lifestyle as well as hormonal and neurotransmitter imbalances. A complete history and physical as well as appropriate testing will usually reveal the correct avenue of therapy. A safe, effective way to treat insomnia is with bio-identical hormone replacement therapy, or BHRT. Unlike conventional hormone replacement therapy (HRT), BHRT treats insomnia by balancing your melatonin, estrogen, or testosterone levels with hormones that are biologically identical to those your body produces.
Get Better Sleep
Sleep disorders can seriously diminish the quality of your life, and If you're struggling with sleep and would like help to conquer it, please call ☎ (410) 567-0667.
---
Our Location
Annapolis Integrative Medicine
1819 Bay Ridge Avenue, Suite 180
Annapolis, MD 21403
Phone: (410) 567-0667
Serving patients in Annapolis, Parole, Eatons Landing, Hillsmere Shores, Highland Beach, Rolling Hills, Edgewater, and the surrounding Maryland communities.