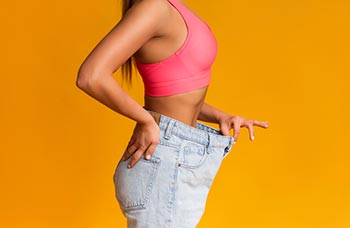 In our practice, we utilize the HCG Weight loss protocol. This protocol, which has been available since 1971, allows most patients to lose between 10 and 25 pounds over a 24 day period.
Sound too good to be true? Maybe, but it really does work.
The protocol utilizes a low-calorie diet, between 500 and 1000 calories a day depending on initial weight and BMI, plus a daily injection (using a very tiny painless needle) that you do at home of HCG.
What is HCG?
HCG is "Human Chorionic Gonadotropin." It is a protein hormone made by the placenta of pregnant women. It acts to stimulate precursor hormones in the body called Luteinizing Hormone (LH) and Follicle Stimulating Hormone (FSH). The elevation of these hormones by HCG prevents the negative feedback loop of high hormone levels in the pregnant female, allowing hormones to go higher than normal. In non-pregnant patients and males, it serves to elevate hormone levels as well. To what degree the hormones are affected depends on the dose of HCG that is given.
For most people, if you eat 500-1000 calories a day, you will lose weight. However you will lose a combination of fat and lean muscle mass. Utilizing the HCG along with the diet provides the following benefits:
Preferential loss of fat and not muscle.
Decrease or absence of hunger while on the diet.
Stimulation of muscle and lean body mass development.
And, generally, an altered experience of hunger and ability to maintain weight loss after the protocol.
Is it Safe?
Yes. We have seen zero side effects from this protocol. In general, people experience a heightened sense of wellbeing and exercise. You will not be at increased risk of cancer or blood clots.
Can I Just Use HCG Drops I Can Buy on The Internet?
Yes you can, but you should know it is not HCG. You cannot get HCG without a doctor's prescription. What you will buy on the internet is "homeopathic drops" which contains no trace of HCG. You will lose weight this way, but it will be a combination of muscle and fat, and you will not feel as well as you will when you use real HCG.
We have patients who have had over a 100 pounds to lose who have done so after doing a few rounds of HCG.
And finally, there are many practices that charge over a thousand dollars for this protocol. We charge less than half of that, and we have a great deal of experience in working with patients to be successful with their weight loss.
If you are interested in pursuing this protocol, please call our office at ☎ (410) 567-0667 for further information.
Other Weight Loss Options
Intermittent fasting
Ketogenic diet
In-depth testing

Insulin resistance
Small bacterial overgrowth
Thyroid dysfunction
Other hormonal abnormalities
---
Our Location
Annapolis Integrative Medicine
1819 Bay Ridge Avenue, Suite 180
Annapolis, MD 21403
Phone: (410) 567-0667
Serving patients in Annapolis, Parole, Eatons Landing, Hillsmere Shores, Highland Beach, Rolling Hills, Edgewater, the surrounding Maryland communities.