Digestive & Intestinal Disorders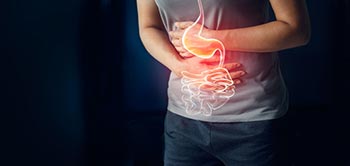 Disorders of digestion and intestinal function can be treated very well through functional and holistic approaches. Working with the body to optimize digestion, reduce inflammation, and improve elimination can have widespread positive effects on overall health. Most people are unaware that the intestines contain about 85% of the body's immune cells and neurotransmitters.
Intestinal conditions that respond very well to integrative medical approaches include:
Collagenous colitis
Crohn's disease
Food allergies including celiac disease and gluten sensitivity.
Gastro-esophageal reflux
Irritable bowel disease
Lymphocytic colitis
Parasitic infections
Poor digestive function including hypochlorhydria (low stomach acid).
Ulcerative colitis
Yeast and bacterial overgrowth of the intestines.
Symptoms include:
Abdominal pain
Anemia
Bleeding
Cramping
Diarrhea
Fever
Loss of appetite and weight loss.
We are one of the few centers on the east coast to feature the Heidelberg pH Diagnostic System , a state-of-the-art diagnostic tool for measuring the pH levels in the digestive tract.
Following a complete detailed history and physical, a diagnostic and therapeutic plan will be developed to get you back on the road to health.
A variety of prescription drugs and integrative holistic therapies are available as treatment options. Stress reduction and a customized diet plan are often helpful in reducing symptoms of gastrointestinal disorders.
---
Our Location
Annapolis Integrative Medicine
1819 Bay Ridge Avenue, Suite 180
Annapolis, MD 21403
Phone: (410) 567-0667
Serving patients in Annapolis, Parole, Eatons Landing, Hillsmere Shores, Highland Beach, Rolling Hills, Edgewater, and the surrounding Maryland communities.